The purpose of build a business complex is to generate revenue and profit . According to all the available tools that are used.
The first thing that a person facing it , is interior design which is important despite the competitive atmosphere in this field. In addition providing goods and high quality services , designing a professional interior can impact client and improve working efficiency.
A visually appealing atmosphere will always remain in the person's mind.
And it will probably convince the client comes back again.
Important points in interior design of complexes
There are some important points to consider when designing a business space that make the atmosphere more attractive and attrack the clients.
The Light
Light influences the design of interior decoration ; complexes are no exeption. Proper use of light is directly related to how it's viewed and attract the person.
The color
Every body knows the affection of color on the person's feeling. The psychology of colors show proper use of colors that can affect the mind.
Dimensions
The designs that are based on the dimensions are important and impressive. Each atmosphere and layout of it , is important too which designer should pay attention to it.
Identification
In term of architecture , each structure has a number of concepts and values and remembered with them or sometimes introduced. Having elements which take meaning with overall architecture will be bold in sight of viewer. For example , The Louvre Museum in paris has been memorized with this structure (image 1)
Anybody with any nationality who see this structure , unconsciously will be remembered by the Luvre in paris. Generally speaking , the structure originally acquired it's identity from the Luvre museum and then it gives the museum identity.
The presence of such an element in a complex can be introduced to the large persons and client and gradually gives a new identity to the complex.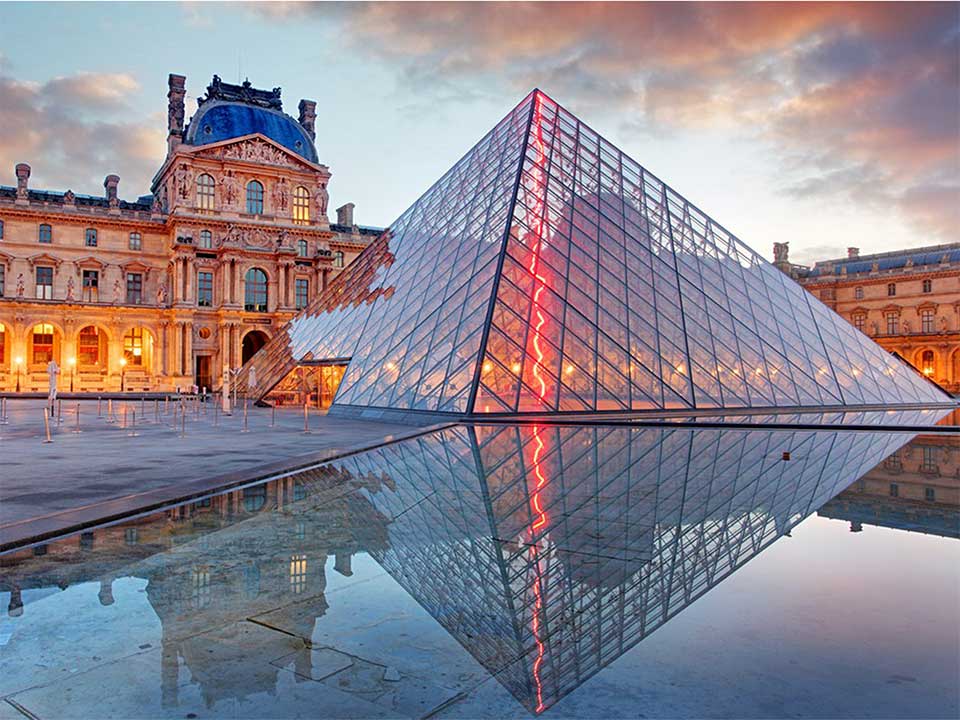 Stained glass , identity maker
Sometimes the visual aspect of a complex can be important which invite clients without even need to expand that atmosphere on social media can have an effect on this process. Sometimes even , share a picture on social media can make a environment popular in society and lots of people follow that complex.
Stained glass as a identity maker has a determinative role in this space. A huge dome made of stained glass as a indicator element is capable to attract people while there may be no need to shopping.
Characteristics of stained glass domes in complexes
Stained glass is an impressive art in the world. It has been years, of implementing large structure with this technique. Community hally, Art halls and huge complexes in the world use this technique to attract people.
Special feature of this art attract more and more people.
Domes capability for large openings (50 or more ) , variation in design and color and being adoptable to all architectural styles , make this art suitable for luxury places.
The choice that dazzles every look and there is no similar example.
Certainly the interior of the complex turns into a luxurious and magnificent place.
Stained glass domes on complexes roof
The Architaj group with over 15 years of experience in stained glass domes , has experience of designing large openings (over 20 m) in numerous projects , each with a specific design , according to architecture of building and have respect for their employer. Here are some example of domes.